I simply love flowers. They are beautiful and make life seem sweeter.
Getting flowers at work is something else. They are better than a vendor bringing in chocolate, better than a free lunch, and even better than free beer at work (yes, I work at a pretty casual place). Flowers mean someone cares about you. And that feels good.
I recently got flowers at work (and some sinful candy) for my birthday. They were from my super sweet co-workers.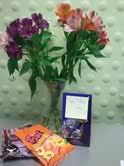 I think I'll get them flowers sometime too. Perhaps their next birthdays.
My husband sent flowers to me at work once a long time ago. That was a great day. Walking back in from lunch, seeing that big beautiful bouquet at the front desk, and finding out they were for me...whoa! Hello, brownie points.
Another idea is a flower club to bring some color to a stag work environment. One person in the club buys a big bouquet of flowers at the beginning of the week, breaks it up, and gives each person in the club some flowers.
I know, like any working mama has time for that. But, the idea is kind of nice.
Heck, maybe us working moms should stick with the plastic flowers. I have some that even look kind of real (thanks to
Hobby Lobby
)! Something is better than nothing!