So let me just start out by saying that I wanted to do something special today given it's my birthday. I was thinking of hosting my very first giveaway. Well, unfortunately I caught some kind of nasty virus. I woke up at 3am with a 103 fever! Lesson learned. Never continue working when you are sick because you will just get sicker.
Luckily I survived and am able to post once again.
So let's do a good deal and then we will do a giveaway next week!
So my little guy is now able to sit in a highchair. I know, he is pretty impressive. Not only did I not want to invest in a highchair, but I don't want to clean up the sticky messes that go along with them. Can you blame me?
After talking to many other ideal mamas, I came across two solutions that would be a better solution.
First is the
Phil and Ted's
attachable seat. It attaches right to your table top. It has this fabric that is super easy to clean and the price is 50-70% less than an average high chair.
There are other brands that sell this style, but this one is the most portal and light weight.
Problem is with this chair, if your table has leaves, it won't work. This happens to be why I had to return mine. I found out it works best on kitchen islands (oh how I wish I had one of those).
The chair I ended up getting is the
Safety First Booster Chair
. Let me tell you, I love it and so does my little man. It fits easily to a chair and he can eat right with us at the table. This is one of our new favorite activities.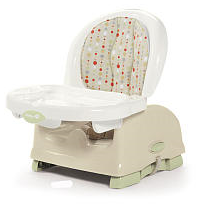 The chair is super easy to clean and actually has a removable tray that can run through the dishwater. That's what I'm talking about.
The colors are great too. Very neutral and works with almost any decor.
Oh wait, did I mention the price? $40 at
Babies R Us
. You just can't beat that good deal.
So there you have it. Another (birth) day, another deal.