I absolutely love Christmas traditions. Every year when I was a little girl I looked more forward to traditions that anything else, even presents. Some of my favorite traditions were decorating the Christmas tree, playing with the snowy house statues under the tree, and of course baking cookies.
I cannot wait to start new traditions with my little one. We are going to have so much fun.
My mom came across this great idea for a new tradition. She gave me
The Elf on the Shelf
while we were visiting for Thanksgiving.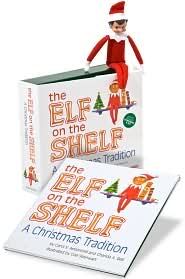 It is this box that includes a book and an elf on the shelf. Every night after Thanksgiving, you are supposed to read the story to your kid at bedtime. Once they go to bed, put the elf somewhere in the house and your little one is supposed to wake up and find it the next day.
Kids are encouraged to talk to the elf, but cannot touch the elf. If they do, the elf will lose its magical powers. A.k.a: Don't let your kids touch the elf or it will get all gross and you will have to throw it away.
Elf on a shelf can also help you, just like Christmas!
-Gets kids go to bed on time because they will be excited to get up to look for the elf
-Gets kids to wake up on time for school
-Teaches them how not to touch things they shouldn't touch
-Teaches them to be extra good
I also just love the idea of having Jackson get all excited about finding the elf in the house. There is nothing like hearing my baby laugh or see his smile. He is too young to do it now, but in a year or two, this will for sure be one of many traditions.
You can get Elf on the Shelf at
Barnes & Noble
, and as always,
Amazon
. Retail price is around $30-$35.