Even though we have Jack wear size 12 month pants (he is only 8 months old), his pants always ride up, leaving him with some pretty cold angles. It's seriously a problem for my little dude.
Last weekend I hit up
Old Navy
to score some deals. In the baby section I found out they sell socks for $1 each when you buy 5 pairs. Good deal! After wearing them a full week now, I can tell you these are some super stellar socks. They are long and go up his leg a bit which help this pants situation. They are also really cozy. Warm little dude.
They have all kinds of cute varieties too. The other morning I put him in some army socks. I couldn't stop laughing when he was in his white onsie and these socks. With that semi-bald head of his he could totally go into the Army...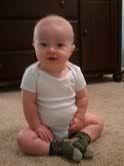 He might have to lose a little bit of baby weight first though!
Hope everyone has a happy Friday!