I love a snazzy deal. I can't imagine ever buying anything that isn't on sale or of a good value in one way, shape, or form. I'm sure other people would like to know about good deals too, right? Therefore I'm officially introducing a new segment called "The Good Deal."
Good Deal:
Target Up&up diapers
If you like Pampers, try these babies out. They are not as soft and sweet as the Pampers (they feel a bit more like paper), but they fit really well and do the trick. Little Jackson doesn't seem to notice the difference either (and neither does his bum).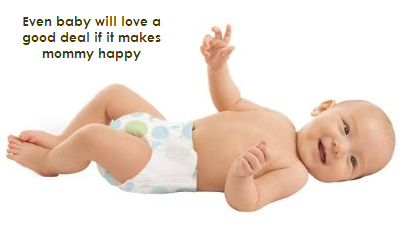 For a big-ass box of 96 diapers (size 3), they are approximately $15 vs. $20 for Pampers.
You could take that $5 and buy yourself some lunch. Well, maybe a cheap lunch, or at least a cocktail.
A big thanks to my friend Alison for recommending these diapes to me.
Check in next week for another good deal.