Brrrr, it's freaking cold outside. This weekend while my dear husband was off having fun at the football game, I took care of a sick baby (just a cold). I decided to get a head start on the cold that will likely hit me next by making some chicken noodle soup.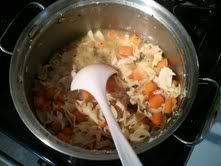 On Saturday night we ate a rotisserie chicken from Costco (only $5 for a huge bird!) and half of it was leftover. Soup is the perfect way to use it all up.
This soup is so easy, I was able to make it while Jackson took his morning nap! That's right, 20 minutes.
First I cut up some prewashed carrots, celery and parsley. I put some olive oil in a big pot and sauteed the veggies until semi-cooked. I pulled the rest of the chicken away from the bone and added the it to the pot along with 1.5 cups of no-yolk spiral noodles.
I added 3 cups of chicken stock (low-sodium is best) and stirred. Cook and stir occassionaly for 30 minutes and it's done. Shake in a little salt n' peppa and you are done. It yields about 6 servings.
It was so yummy for yesterday's lunch. I gobbled it up. I even have enough for dinner tonight. I can't wait to dig in again. And, it's low-fat. Can't beat it for comfort food.