Sometimes it's the little things in life that make it sweet. Kissing your baby's feet because they are so small and soft, drinking a cold glass of water after a long workout, finding a beautiful green hydrangea flower on sale for a $1 and having it last for over a week!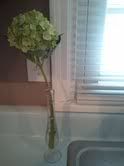 I had these types of flowers in my wedding and I love them. Not only do they smell lovely, they look lovely.
I have a lot of these flowers in my home here and there too. I think they look amazing when dried and even when they are (dare I say) plastic. Eek.
So if you are lucky to find them for cheap like me, buy up, display, and perhaps even dry for a lovely statement in your home. After all, it's the little things that really count.